NEM Foundation Q1 ROI Executive Summary
Dear NEM Community, we are happy to provide you with an update on the Foundation's Q1 ROI Executive Summary. A link to the slides can be found here.
Alexandra Tinsman, President of the NEM Foundation has recorded an explainer video, a link to which can be found here.
Translations can be found below:
Russian: here
Italian: here
Spanish: here
Chinese: here
Japanese: here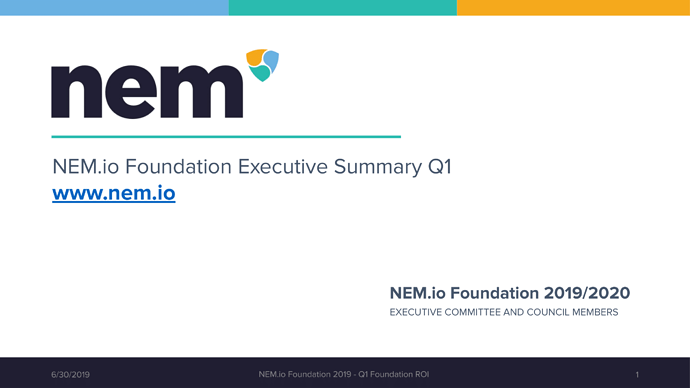 Foundation Mission and Focus
The Foundation's mission is to support adoption and development of the NEM blockchain technology through partner support, contributing code and tools to the platform, and providing education and training to grow the ecosystem.
The focus of the Foundation in 2019 is to support the commercialization and launch of Catapult, the next iteration of the core NEM engine (due in Q3/Q4).
Foundation Return On Investment – ROI
This deck is a high-level recap of the NEM Foundation's return on investment for operations for Q1 2019. Through a community vote, funds were awarded to the NEM Foundation to meet its broad goals and to implement a new management structure for 2019-2020.
● How did the Foundation spend its funds in Q1?
● What results were achieved from this spending in Q1 and after?
Q1 Funds Spent
Q1 Spend Considerations
Considering the significant challenges we faced in the beginning of 2019, we're happy to report that the new product-focused organizational structure is thriving and yielding positive results and meaningful contributions to the NEM ecosystem.
Placing Investments right
While Q1 expenses were higher than anticipated due to unforeseen 2018 debt obligations and financial stability concerns during a bear market, the global restructure of Foundation staff and resources helped mitigate potential ruin of the Foundation. It helped us shift gears to put strategic investments in the right areas — specifically Catapult, Sustainability, and Governance.
Proactive measures bringing in seasoned legal, compliance, and human resource teams to navigate the worldwide restructure of 150 staff was also a key part of the transition. Now every Foundation staff and consultant was accounted for, has a service agreement and has gone through KYC compliance.
Over 30 internal policies were drafted and put into place to stabilize operations. Policies including Conflict of Interests, Confidentiality Agreements, Performance Management, Compliance Training and more.
This gave us support to hire strong development teams for our new frontend development studio that would soon work alongside NEM Studios, the backend development house for NEM. Together the NEM Foundation and NEM Studios will co-exist under one matrix Chief Technology Officer.
Pivoting to business development
With development under control, we focused from tech to pivoting to business development. For every single BDperson on staff, we need 1-2 trainers for implementation. But how could we do this with reduced staff?
The solution was to create a centralized scalable training on-ramp with built-in revenue mechanics (with free and premium content) that would provide consistent localized development support 24/7 worldwide. It is set to launch in the Q3/Q4. This meant we needed service providers to help us with projects and BD.
That led to researching and launching the RFP (Request For Proposal) portal. This portal has brought in a strong lineup of new providers, service integrators, and talent to succeed.
RFP portal launched
With the RFP portal launched, we were able to focus on sustainability and revenue. The first big project was auditing the NEM Blockchain Centre in Malaysia. It had significant potential but lacked strategic direction. It was a financial drain on the Foundation.
Jasmine Ng was appointed as a new Director of the NBC. She successfully found a new partner to take over the building lease while also securing key partnerships that turned "free" consulting projects into paying consulting projects.
Here's the before and after comparison:
2018 NEM Blockchain Centre
2019 NEM Blockchain Centre
Monthly lease rental = 31K MYR per month (~$7,500 USD)
Cancellation of 3-year lease (no obligation to pay remaining
$160,000.00 USD contract)
No revenue brought into NF during 2018,
No sustainability plan
$400,000.00 USD in anticipated revenue achieved through consulting projects with $20,000.00 USD received to date
Underutilized space due to poor planning for co-working Centre, audit showed ~$100,000 in overcharges during development
Another local co-working space took over our original contract, agreed to keep NEM branding on the building/space and now NF team remains in the space
Malaysia carried stigma as an underperforming region
Team restructured for success and embedded into new Foundation roles,

Ivy Fung promoted as lead for training portal alongside David Garcia (former NEM Europe),

Jason Lee and Laura Takenaka are brought
in as new Directors
New go-to market strategy
During this time, we also were hyperfocused on the pre-launch, launch and post launch of Catapult. Our website hasn't been updated since 2017 and a lot has changed in the industry in the past few years.
We knew we needed a brand refresh to be competitive in the marketplace. This led us to contract with David Shaw (NEM Studios as a service provider under our new platform and help refine messaging, positioning, and get a deep understanding of market analysis so we can move forward with a strong go-to-market strategy plan for Catapult.
A steering committee comprised of David Shaw (NEM Studios), Alexandra Tinsman (NEM Foundation), and Nate D'Amico (Tech Bureau) was set up and meets regularly for progress and collaboration on the go-to-market.
Catapult needs more than a backend and frontend tech team to make it come alive. Business development, marketing efforts, and events can sometimes struggle to gain mainstream attention if the messaging around the powerful features of Catapult are isolated to just the ears in the current NEM ecosystem.
Increasing in Public Relations
That's why Wachsman PR was brought in to make some noise. Wachsman is the PR firm behind some of the biggest brands in tech, including Ripple and Dash. They've been essential to helping Foundation and Ventures level up and shape the right narrative around the powerhouse that is known as Catapult. You are starting to see the effects of their efforts now.
Sourcing fresh talents
Another investment of the Foundation is in talent. We need to invest in talent to attract, retain and foster good people to push our platform forward. The NEM project was born from the community and has evolved into a robust full-featured blockchain engine that has the ability to disrupt many industries.
As the NEM tech has matured, so has our culture and demands on our staff. The blockchain and cryptocurrency field can be a challenge to work in. It demands being comfortable with uncertainty, volatility, speculation, unknowns in regulations, and a constant demand for change. It can lead to burnout and also make it hard to find work/life balance. During Q1, we didn't just do a financial audit but we also had to do a talent audit.
Did we have the talent mix to succeed?
For the leadership team, we launched performance reviews and had a good understanding of what mix of skills and personalities would be needed to succeed in the new structure. We had a few Council members depart but we also added new leadership that has had a positive change on our culture and performance.
The Foundation focuses on the sum of the many moving parts in NEM and we pivot based on the needs and opportunities within the ecosystem. This first step in Q1 was a big one.
Thank you for your continued support, NEM community and Core Team.
High-level Major Results
No.
High-level Major Results
Details
01
Foundation Frontend
Development Studio Established

Global frontend development studio (with 18+ developers + support staff)
Chief Technology Officer (matrix with NEM Studios) recruitment in process
Projects in motion: Full testnet, SDKs, documentation, simple mobile app, block explorer, node explorer, Ledger support, online training and materials

02
Catapult Roadmap and Support

Foundation Catapult Roadmap released to public
Catapult Migration Teams and Exchange Teams established
Go-To-Marketing Team partnered with NEM Studios
Stronger alignment with Core Team and Core Developers on Catapult

03
Global Operations Established
(HR, Legal, IT and Compliance)

Singapore Director hired (we've lacked one since Q3 2018)
Legal and global human resources teams hired and completed 150 staff reorg
IT team hired and completed global IT audit as well as migration to new IT systems (saving Foundation hundreds of thousands of dollars)

04
Finance Restructure

Foundation Trust set up and in effect (finalized in Q2)
2019 Q1 audit compiled, submitted to Core Team and auditors, all approved
Funding installments for Q1 and Q2 operations sent to Foundation Trust
New auditing firm hired for extra layer of financial oversight

05
Business Development Restructure

Revamp of Business Development team, policies, & management tools
New partnerships and MoUs (ex, Zeux, Rapidz, Tutellus, NEM Studios, and TBA)
Launch of Service Provider RFP Portal + awarded first contract with Hatio
Annualized revenue of $400,000 brought in so far through partnerships

06
Japan Strategy Support

Closure of 2018 Japan entity led to audit for better ways to support JP in 2019
Japan strategy firm recruitment in process to help engagement and BD
Translations firms brought on board to help improve communications
Rio Kondo brought in as liaison between Foundation and Japan community

07
Blockchain Industry Lobbying
08
Marketing and Brand Management

Revamp of Marketing team, social media policies, & management tools
Steering committee launched for new brand update (Market Research, Branding, Positioning, Messaging, Competitive Analysis, updated Website)
Participated in Global Events and Hackathons

09
Public Relations

Media training for staff and Council Members
Brought onboard Wachsman PR
Mitigated negative press as result of reorganization in Jan 2019
Outreach and promotion of ecosystem partners

10
NEM Blockchain Centre

Completed 2018 NBC audit that led to massive restructure, new strategy, cost-savings measures, new management and new Directors
NBC lease negotiated and terminated, saving ~$200K USD
Annualized revenue of ~$400,000 brought in so far through partnerships
Malaysia team seamlessly integrated into new organization structure

11
New Project Management

Transformation Team put into place to oversee seamless transition between 2018 and 2019 teams, partners, and projects
Centralized project management platform adopted by global teams to manage KPIs, projects and ROI

12
Learning Portal (Codename: NEM X)

Development of a new online global learning portal (Codename: NEM X) to become the centralized on-ramp for users to learn hands-on about NEM through exams, certifications, SMEs, videos/tutorials, and events. Free and premium content will be available.

13
Leadership Changes + New By-Laws

Navigated Council leadership changes + brought in new advisors + senior staff
Held EGM to manually remove Directors so we could move forward onboarding new banks, integrating with AAA exchanges and partnerships
By-Laws are in process of being updated to new organization structure

14
Working Groups

Weekly working groups organized and assigned for key projects including: STO (security tokens), Catapult Training, and Commercialization (Revenue)
Onboarded advisors and service integrators (SIs) to aid progress in WG

15
Improved Communications

Assigned new global communications team including Laura Takenaka as Interim Secretary and Jian Chan as MarCom Lead
Launched new format for Foundation updates in NEM Forums
Brought on global localization teams and new process for translations
For details on monthly progress, check out the 2019 Foundation monthly updates HERE in the NEM Forums.
New Organization
Structure Implemented
NEM Foundation is proud to deliver to the community on our promise of transparency and sustainable fiscal management. We look forward to providing more updates in the future.
NEM Foundation is changing, and for the better. We are grateful to have the community as partners.
Appendix